2006-01-15 @ 2:54 a.m.
So it's been an eventful and busy few weeks…I have so much to talk about, but not a lot of energy. Note the time.
I have spent 67 of the past 168 hours at work. Which was due to the fact that my boss was on vacation this week. We have been getting a lot of new business lately so I basically had to fill in for him. Which meant I had to work all day Saturday, Sunday and eleven hours every other day and sit with the creative director and other producers to produce Insanely Awesome Kick A Rad spots. Okay, well not really, but being that I was just introduced to the avid a few months ago, I think I did pretty well. The creative director said that my boss won't even recognize me next week because of the progress I made. That was a HUGE compliment because I am so self conscious and worried about what other people think and if I am skilled enough to do my job. Right now I am only assistant editor, but I'm hoping since we will get busier and busier this year they will hopefully remove the 'assistant' part. If not, I assure you throat punching will commence.
And now that I have fully explained my absence, I bring you awesome pictures:
I had found a disposable camera in my car the other day and decided to play a little Russian Film Rollette…Anyway the only decent picture in it was this one of me and Cameron during the fall of 2004 when we went to a pumpkin patch with my mom. In case you are confused, we are pointing to a Quadriplegic Pumpkin-Headed Monster on steriods with cancerous growths on his face, jerry curl hair AND his fly is open. Kind of a downer, really. Not the most appropriate decoration for a supposed 'kid-friendly' establishment, but CamCam and I got a laugh out of it, so I guess that's ok.

A few weeks ago my brother, Angel and I went to see my favorite comedian Dane Cook at the University of Maryland. My camera has been acting kind of weird lately, so believe it or not, this is the best picture of his awesomeness: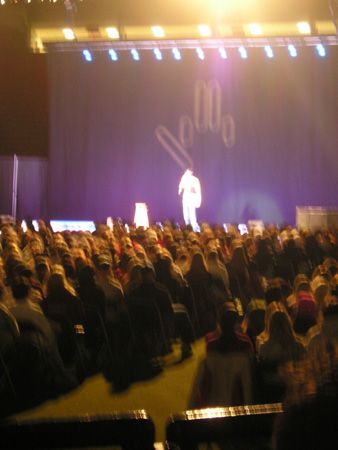 Here is Patch and I being weird.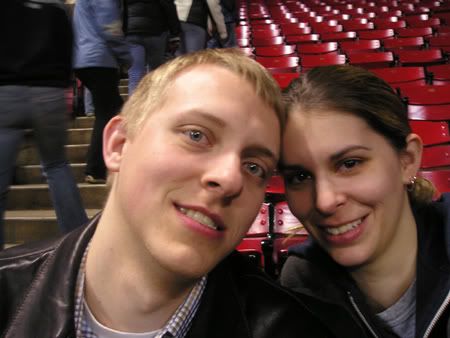 Another recent Chickie Leg adventure as of late was the first Angel/Beth bowling outing. Since it was on a Saturday "Cosmic" night, this is the best picture of me.
It seems my camera was under the influence of the stench of rented bowling shoes.
Here is Angel busting some sweet break dancing moves after throwing what appears to be a gutter ball.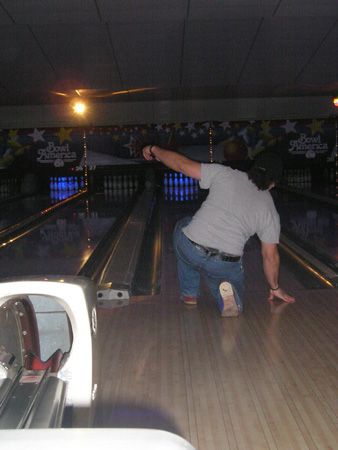 The final score was Angel:116, Me: 107. Now I know that sounds like I suck it big time, but if I even get over 100, I am happy. Of course it doesn't help right before every throw Angel would make some sort of loud noise to distract me. He also took pictures of my butt as I was throwing the ball, so that was also extremely appreciated. I'll get my revenge somehow.
And finally, this Thursday (19th) will be my 27th birthday. I am SO not looking forward to that. Well, I mean I'm looking forward to the presents and free lunch and ice cream cake and more presents, but that goes without saying. I just don't want to be old. It sucks.
Argh.